Meatless Monday: Biscuits and vegetarian red eye gravy
(Read article summary)
Adapted from 'The Southern Vegetarian Cookbook,' this red eye gravy gets its umami-rich, sausage-like flavor and texture from mushrooms, herbs and spices. Paired with easy-to-make drop biscuits, it creates an iconic Southern breakfast.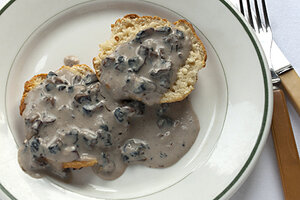 Blue Kitchen
At dinner with friends the other night, one of the diners at our table exclaimed over a vegetarian entrée on the menu. I realized at that moment that I will never willingly become a vegetarian. If there are meat or seafood options on a menu, I can't get excited about vegetarian choices. Or as I put it to our companions, "It would take a death threat from my doctor to make me turn vegetarian."
That said, we are trying to eat less meat these days. So when I was offered a review copy of "The Southern Vegetarian Cookbook: 100 Down-Home Recipes for the Modern Table," I said yes, please. Traditional Southern cuisine relies heavily on meat – bacon, ham hocks, ribs … even pie crusts are made better and flakier with lard. I was curious to see how classic recipes would work without meat. Based on this one, the answer is deliciously.
"The Southern Vegetarian Cookbook" is the work of husband-and-wife team Justin Fox Burks and Amy Lawrence, creators of The Chubby Vegetarian food blog. They turn the meat-centric view of Southern cooking on its head, recasting garden bounty as the star of the plate.
And that garden bounty makes up much of the ingredient list in the recipes in this book, supported by an impressive mix of flavor-boosting herbs and spices. Refreshingly, beans, cheeses, and eggs deliver much of the protein, not vegetarian food products. Seitan and tempeh each appear in a single recipe, tofu in only a few.
The cookbook covers everything from breakfast and brunch to appetizers, salads, soups, sandwiches, main courses, desserts, and even drinks. It also has basic recipes for sauces, stocks and other building blocks, as well as helpful tips on stocking a vegetarian pantry. Justin's beautiful photographs not only show you how each finished dish should look (a big plus to me with any cookbook), they whet the appetites of even staunch carnivores like me.
---