Apple streusel bars
(Read article summary)
Use crisp and tart Granny Smith apples to make these apple streusel bars.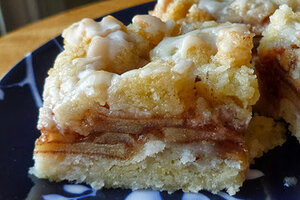 The Pastry Chef's Baking
Although apples are available year round, I always associate them with autumn. My friends in New England have an annual tradition of going apple picking and it always sounds like a lot of fun, the quintessential fall activity. My friend Annie the Baker who used to be the head pastry chef at Mustard's in Napa Valley recommends getting apple desserts in restaurant only in the fall because that's their best season. So fall always means apples to me.
And apple desserts like this one. It's not quite a cobbler, despite its appearance from the top. Instead, you have a bottom layer of sweet pastry, then a layer of cinnamon-sugared apple slices, followed by a crumb topping which is just crumbles of the same pastry dough that makes up the bottom layer. Bake to golden and glaze.
While I normally don't like fruit desserts since I prefer my fruit to be whole and consumed in its natural state, apples are an easy exception, especially with desserts like these. If you want to serve it warm, you can treat it more like a cobbler with a scoop of vanilla ice cream on top. Leave off the glaze if you don't want it to be too sweet.
But I actually liked this better served at room temperature and, as a rare exception, served the day after I made it. Freshly made, it's good but a bit more gooey and soft so I tended to focus more on the texture than the flavor. The next day it was even better because the flavors just seem more developed and pronounced. It's also easier to slice neatly since the apples have firmed up.
For sweet desserts like this one, I almost always use Granny Smith apples. The pastry layer and topping plus the glaze and the cinnamon sugar you roll the apple slices in are sweet enough. The tartness of Granny Smiths offers a nice contrast in flavors to the sweetness of the other ingredients. I thought this was a perfect snack dessert and is going into my fall baking repertoire.
---