Stuffed eggplant, inspired by Henri Matisse
(Read article summary)
An eggplant stuffed with North African and Middle East ingredients gives a nod to one of Henri Matisse's classic works.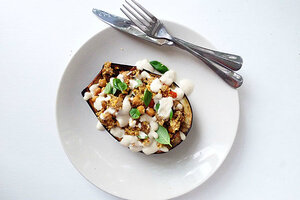 Feasting on Art
The 1911 painting "Still Life with Aubergines" by Henri Matisse exemplifies the characteristics of the Fauvist movement with the wild brushstrokes and incongruent colors. The painting was completed during a period of flux in Matisse's oeuvre. During this time in his career he was influenced by travel to Algeria and a major exhibition of Islamic Art in Munich.
The resulting composition incorporates the highly decorative ornamentation typically found in Islamic Art into the vivid swirling shapes of the wallpaper. The simplified figure in the sculpture reflects the time in Algeria where he studied primitive art.
The recipe below features the aubergine (eggplant) depicted by Matisse while including North African/Middle Eastern ingredients: tahini, couscous and chickpeas.
Stuffed Eggplant
Adapted from Diggin up the Dirt
Yield: 4 servings
2 eggplants
3 tablespoons olive oil, divided
1 onion, chopped
4 cloves garlic, minced
12 cherry tomatoes, halved
1 can chickpeas, drained
1/2 cup uncooked couscous
1/2 cup boiling water
1/4 cup tahini
1 lemon
---