Pumpkin gingersnap bars with gingered cream cheese topping
(Read article summary)
These seasonally perfect pumpkin bars pair a spicy gingersnap cookie crust with a layer of luscious baked pumpkin custard.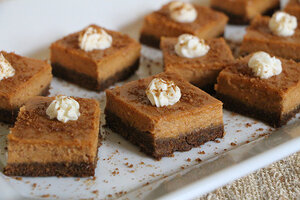 The Gourmand Mom
Halloween blew my 2-year-old's mind. Totally blew it. For weeks we'd been talking about how he would be Captain America on Halloween, while his brothers would be Hulk and Thor. Daddy would be Iron Man and Mommy would be Black Widow. We'd go door to door, collecting candy, which we would deposit in plastic pumpkins.
Though clearly flummoxed by this odd outline of what would happen on Halloween, he walked around telling anyone who would listen that he was going to "be Captain America." (When he says it, it sounds a lot more like "Captain Murder.")
As Halloween unfolded, every last bizarre detail came to fruition. He became Captain America. He was handed a plastic pumpkin. He said the magic words as he trotted from door to door. He got candy. Somehow, he managed to collect twice as much candy as either of his older brothers, having visited the same number of houses.
Be Captain America. Get Candy.
Meanwhile, Lucas, my 5-year-old Hulk, obsessed over the accuracy of every minute detail of his costume. My initial money-saving plan of picking up a fleece Hulk hat, t-shirt, and green face paint was met with a long list of concerns about muscles, green arms, purple ripped pants, and green legs.
I abandoned my frugal plan once the details overwhelmed me, in lieu of an official store-bought muscles-included hulk costume. Far from solving the problem, this purchase was quickly met by concerns over not having green feet or enough teeth in his partially toothless mouth. A hefty dose of gamma radiation may have saved us all a few headaches.
Learn from my experience, folks. If you stick three little boys in superhero costumes and call them The Avengers, you'd better expect some major chaos. Thor's hammer was revoked almost instantly. Somehow, we made it through the day, by the skin of our superhero teeth. Next year, I may dress our whole clan as librarians, monks, and sloths.
---