Pumpkin spice cake with caramel pecan glaze
(Read article summary)
Light and fluffy, with a good pumpkin flavor and texture, this pumpkin spice bundt cake is perfect for fall. Use store-bought or homemade caramel sauce and pecans to top it, but either way wait until the cake is completely cool first.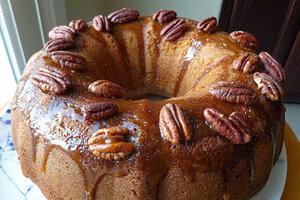 The Pastry Chef's Baking
Everywhere I turn on Pinterest, I'm seeing all sorts of pumpkin desserts sprout up. And, being sadly lagging on the blogosphere calendar, I'm finally making a pumpkin cake I pinned awhile back but never got to until now. The pictures on Heather Christo's blog are mouthwatering and seemed like the perfect autumn dessert with both pumpkin and toasted pecans, not to mention caramel. Caramel. Sigh.
Although unfortunately, when I was making this cake, I was short on time to make the caramel from scratch so I ended up cheating and topping it with the salted caramel from Trader Joe's. I know, total cheater, right? It also didn't work as well as I wanted either. I spread the caramel while the cake was still a little warm. It looked fine at first but ultimately it absorbed into the cake itself so I was left with a plain-looking cake with random pecans stuck on it and darker colored patches where the caramel once lay. Oops.
Fortunately, however, despite its appearance, this made a good cake. It had a nice fluffy texture and a good pumpkin flavor. I left the original caramel recipe below for anyone who wants to make it from scratch but I think to make the frosting stand out a little more, I'd try making a caramel buttercream for it instead. Or just use more caramel like the original recipe seemed like it did.
Pumpkin spice cake with caramel pecan glaze
From Heather Christo
3/4 cup butter, room temperature
1-1/2 cups white sugar
3 eggs
1-1/4 cups pumpkin puree
3 cups flour
---