Turkey recipes: brine, fry, or a traditional rub?
(Read article summary)
Turkey recipes for Thanksgiving range from brining, deep frying, and the more traditional oven roast. Here's a traditional rub recipe for a roasted turkey.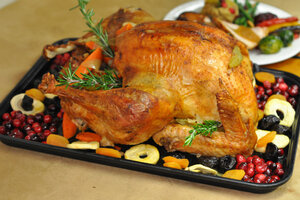 Courtesy of Maria's Homemade, Westside Market NYC
The same Thanksgiving meal each year with a familiar turkey recipe, sweet potato casserole, and cranberry relish can be comforting. But a lot of Americans try to mix things up a bit from year to year to keep things interesting.
Brining
"Brining your turkey prior to cooking will help ensure you end up with a deliciously moist and flavor-packed turkey for your next gathering," reports Butterball.com. There are lots of brining recipes available online, including "The Complete Guide to Brining a Turkey" on Epicurious.com
Bacon blanketed
Perre Coleman of The Runaway Spoon shared with Stir It Up! readers her take on a Thanksgiving turkey: a bacon-blanketed, herb roasted turkey that not only looks interesting, the flavors are intensified (and everything is better with bacon, right?).
Deep-fried
We can't endorse it because of its danger levels, but here are a few tips for deep-frying a turkey if you choose to go that route.
Traditional roast
NPR's "The Salt" reported last week that a survey of food magazines this year shows "classic dishes are holding steady" for Thanksgiving this year. For turkey recipes, that means forgoing the grilled turkey for one that has roasted slowly for several hours in the oven.
Maria Zoitas, creator of "Maria's Homemade" line of prepared food at Westside Market NYC, has prepared this classic roasted turkey recipe with a fresh herb rub for Stir It Up! readers.
---