Squash coconut curry soup
(Read article summary)
A melt-in-your-mouth soup so good you'll want more than just one serving.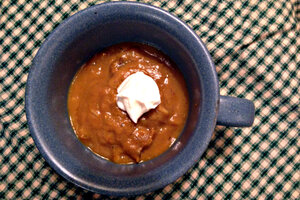 Kitchen Report
I wanted to host some friends to watch "Sound of Music Live!" on NBC with Carrie Underwood when it aired last week, so I sent out an enticing e-mail promising hearty soup, bread, and freshly baked cookies. Somehow I managed to convince three friends to show up.
About five minutes into the production, the soup was stealing the show. "This is melt-in-your-mouth good," said Christy. "Can you give me the recipe?"
Rebecca, who had arrived announcing she had already had dinner, had two bowlfuls.
I was thrown off a bit, because I had made up the recipe. I felt my pride rise from the lake to the trees. Actually, once you know the basics in making soup (stock, thickner, seasoning) you can pretty much mix and match flavors to your heart's content. I had riffed on this pumpkin curry soup with some miscellaneous leftovers I had on hand: a 3/4 can of pumpkin purée, 1/4 roasted butternut squash, a withered apple, and a bit of rice.
You can adapt the amount of squash to your liking – for instance, you can use a whole can of pumpkin, no biggie. You can also add more or less broth, depending on your preferences for thickness. The flavors will improve overnight, if you can manage to save any leftovers. (I barely managed to save enough for the photo.)
By the time Liesl and Rolf were rolling down the remarkable fake hillside, the soup pot was empty. We watched the entire three-hour production, which had its highlights and amazing voices, mopped up our soup bowls with bread, and drank tea with our ginger molasses cookies. But mostly we missed Julie Andrews.
---