Cauliflower cheese soup with curried cauliflower crumbs
(Read article summary)
A British comfort food, cauliflower cheese also makes a creamy, simple soup.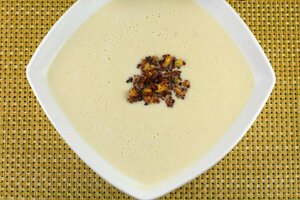 The Runaway Spoon
Cauliflower Cheese is a very popular dish in England, one of its comfort foods. Basically, it is cauliflower in a creamy cheese sauce. But the first time I heard of cauliflower cheese, on the set menu at a restaurant during a high-school summer in England, I was a little worried it was actually some kind of strange British cheese. I thought they might bring our some lumpy, bumpy, smelly cheese – an early on I always worried even the most innocuous sounding English food would contain unfamiliar animal parts. I have since learned not to fear British food, and the combination of cauliflower and cheese is a solid one. I love it in this creamy, simple soup.
This soup is hugely adaptable. I love the interesting touch of the curried crumbs (and it is a way to use some of the extra cauliflower), but the array of topping possibilities is endless. Try the crumbs with just salt and pepper, or any seasoning you prefer. Crispy pieces of bacon or pancetta, toasted croutons, a shower of chopped herbs, a drizzle of olive oil, chopped toasted walnuts or some extra shredded cheddar. Use your imagination and what you have to hand.
Cauliflower Cheese Soup with Curried Cauliflower Crumbs
Serves 4
2 leeks, white and lightest green parts (about 8 ounces)
1/4 cup butter
2 cloves garlic, minced
2 tablespoons all-purpose flour
2 cups chicken broth
1/2 cup heavy cream
1/4 teaspoon nutmeg
6 – 7 sprigs fresh thyme
2 bay leaves
1 pound cauliflower (about 1/2 head)
14 ounces white cheddar cheese, grated
For the Crumbs:
1/2 head cauliflower
2 tablespoons olive oil
---