Chinese New Year: Celebrate happiness and wholeness with a roasted chicken
(Read article summary)
Ming Tsai of public-television's 'Simply Ming' shares an East-West recipe and other food traditions to honor the Year of the Horse.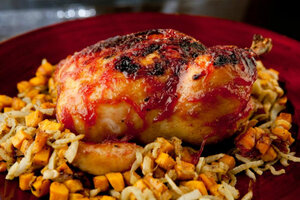 © 2014 Ming Tsai
It's the Year of the Horse and what better way to kick off the Chinese Lunar New Year than with a steaming plate of home cooked food? Even if you aren't a knowledgeable cook when it comes to Asian dishes, the holiday is a fun occasion to be festive and forward-looking at a dull time of year.
Ming Tsai has a talent for harmoniously combining traditions of the East and the West. The award-winning chef runs two Boston restaurants, Blue Ginger and Blue Dragon, and is the host of "Simply Ming," produced by WGBH, on which the charismatic Ming teaches home cooks how to master their own East-West innovations.
Stir It Up! turned to Ming for suggestions on creating a delicious dish for Chinese New Year.
"Chinese New Year is always the favorite holiday for feasting. At home, tables are overflowing with a multitude of delectable dishes," says Ming. Characteristic of his talent for creating Asian dishes that are grounded in Western comfort, he suggests home cooks try a roasted cranberry-glazed chicken with sweet potato-fennel fricassee (see recipe below).
"Chicken symbolizes happiness and prosperity, and the wholeness echoes the prosperity sentiment, while also signifying a good beginning and end to the year," he says.
---