The versatile begonia puts its best leaf forward
Grown for their colorful, shapely foliage, these houseplants are a dream to grow and share with friends.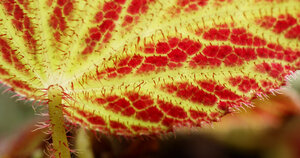 Melanie Stetson Freeman – staff
I hate to admit it, but I have a plant prejudice: I am a former begonia hater. Perhaps my original distaste for the plants came from the years I worked as the admissions gate attendant at Planting Fields Arboretum in Oyster Bay, N.Y.
Late each spring, the large beds in front and behind the booth were planted with impatiens and begonias – the most common annuals for semi-shade. They were typical bedding begonias, growing less than a foot tall, with green or bronze leaves and white or pink flowers. One day, after hearing me sound off, the curator of the begonia collection in the main greenhouse challenged me that he could change my mind about begonias.
He proudly showed off his 200-plus plants. I was amazed at the variety of leaf textures and shapes – from tiny and hairy to huge and smooth, from rounded to serrated, and from flat to crinkled. He gave me a rooted leaf cutting that grew into a gorgeous plant, which later moved with me to Iowa.
Although bedding begonias are considered annuals, all begonias are tropical perennials that can live for years indoors (outdoors in USDA plant hardiness zones 10 and 11). Rhizomatous and tuberous begonias need to go dormant in the winter.
---