Xeriscaping: good for nature – and gardeners
The water-saving gardening technique is friendly to the environment and 'lazy gardeners' alike.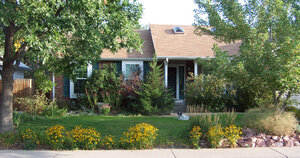 Jodi Torpey
I'd been house hunting for months when the realtor stopped in front of a little ranch-style house, and I instantly knew I was home. This one definitely spoke to me. The house was shaded by a large ash tree on one side of the yard and a small maple on the other. The lawn was lush and emerald green.
But in my excitement I failed to notice that the yard had no sprinkler system. I might as well confess: I'm a lazy gardener. I had no idea of the amount of hose-dragging I would need to do to keep that lawn green.
I live in Colorado. Despite substantial snowfalls in the mountains each winter, the state's average annual precipitation is only 17 inches. That means we almost qualify as a desert.
Still, with average precipitation and a little irrigation, our lawns can be just as thick as any to the east, where rainfall is more abundant. Whether it's a good idea is another story. But at that point, it's what I wanted.
The summer after I bought the house, there was less precipitation than the year before. I found myself spending too much time dragging the hose around the yard. I also found that it was difficult to water the corners without watering the sidewalk. So my beautiful turf began to turn a little brown around the edges.
The next year was even drier, and I had a nagging feeling my hose-dragging days were numbered. Surely it was only a matter of time before mandatory watering restrictions would be imposed.
The idea of taking care of a lawn during a drought spurred me to action. I would transform that thirsty, sunburned landscape into one that used less water – and required a lot less work. I had read about xeriscaping (ZEER-uh-scaping), a landscaping technique that conserves water by reducing the amount of irrigated turf and adding drought-tolerant native plants.
---