Dandelions: the bright lemony grin of spring
Are they weeds or wildflowers? A homeowner takes an environmental – and aesthetic – stand.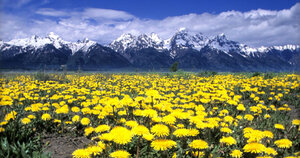 When I was a child, back in the 1950s, I did not search for crocuses or jonquils as the first signs of spring. Instead I looked for the bright lemony grin of dandelions popping up in our yard. In our Memphis, Tenn., neighborhood, lawns were not today's serious carpets of pure, solemn green. They were cozy collaborations of grass and weeds – often a triangle of Bermuda, zoysia, and crab grass. The dandelions added cheer and pizazz, I thought, and we kids quickly incorporated them into our play: As soon as the stems were long enough, we wove ourselves crowns of dandelions. We played house and created dandelion stews and goulashes. We played wedding and walked down the aisle of our sidewalk, strewing golden petals.
As the dandelions grew older and wiser, they became our impromptu runes. We watched for them to get frizzy with fuzz. Then we made a wish and took a deep breath, trying to blow away all the seeds. If the flower head was bald, our wish would come true, we hoped. If stragglers remained, only portions of our wish would materialize.
We were romantic children, caught up in games of pioneers and pirates. We used the dandelion to name the person we would marry. We selected an overripe flower, then blew. We counted the plumes that were left and then matched them with the appropriate letter of the alphabet. We also used the dandelion to comfort us – its silky maturity felt magnificent, and we loved releasing the seeds to the wind.
This spring, I have decided to reclaim my relationship with the dandelion.
For some years, I have felt ashamed of the dandelions growing in my yard. My discomfort began when I moved into a neighborhood where the lawns were sternly green, and intruders, even those that were harbingers of spring, were not welcome. For a year or two, I hired a lawn service and reluctantly complied with the unofficial code. But then I decided I didn't want to harm the water supply or wildlife with chemicals just so my lawn could fit in.
---