Winged jewels in your yard
It's easy for kids to attract butterflies to their yards by planting colorful flowers.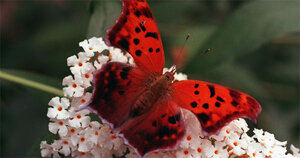 Melanie Stetson Freeman - staff
Butterflies have favorite places and favorite foods, just as you do. If you provide both of them in your yard, you'll get to see these beautiful winged creatures up close.
It's easy to plant a garden that will attract many types of butterflies. And it doesn't have to be big.
You'll want to plant your garden in a sunny area. Butterflies prefer open, sunny spaces, because the sun's warmth makes flowers produce more nectar, the sweet liquid found in flowers. The sun also keeps a butterfly's body temperature high, which helps it survive.
A garden needs good soil. Take the time to work the soil in your garden with a hoe or a trowel. Loosen it enough so that you can dig freely in it with your hands or shovel. The soil shouldn't have rocks, chunks of clay, or weeds in it.
You'll want to plant flowers that butterflies like to visit. These are usually ones with brightly colored blooms – red, purple, pink, and yellow. Butterflies especially like large flowers so they can rest on them while they drink nectar. See the lists at left for more suggestions of good plants for a butterfly garden.
Those that are easy to start from seed include zinnias (red, pink, yellow, or orange); Mexican sunflowers (gold); cosmos (yellow, red, and pink); nasturtiums (red, orange, and yellow); and marigolds (red, yellow, and orange).
If you plant seeds, follow the directions on the back of the package. It will tell you the right time to plant the seeds according to where you live, and also how deep the seeds should be planted in the soil.
Even simpler than sowing seeds is buying bedding plants of flowers that appeal to butterflies. (They are already started in little pots and are ready to bloom.) These cost more, though.
When your garden is growing and blooming, sit back and watch for butterflies. Their life cycle has four stages – egg, caterpillar (larva), chrysalis (pupa), and adult – and they prefer different food (plants) at different stages.
Butterflies also look for special places to lay their eggs. Monarch butterflies prefer milkweed leaves, while parsley attracts many other butterflies. Larva of various butterflies like to eat aster, Queen Anne's lace, hollyhock, violet, and white clover. If you grow these as well as nectar plants, butterflies will stay in your yard for their whole life cycle.
---