This fall, prepare your spring garden
Autumn is the time to imagine a sea of color and plant bulbs.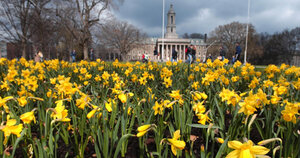 Penn State University, State College, Pa./Nabil K. Mark/Centre Daily Times/AP
Dormant furnaces rumble into life. Icy dew drenches lawns. Plump pumpkins grace doorways. The season to imagine the glories of spring – most particularly bulbs – is here.
For centuries spring-blooming bulbs have illuminated gardens. The Dutch went totally bonkers over tulips in the 16th century, sometimes paying the price of a house for a single bulb.
Gardeners of the 21st century may be less crazed, but bulbs still stir pulses and prompt some growers to dig more holes than acorn-hoarding squirrels. Little wonder. Coming along when winter's gloom seems perpetual, they bring frothy excitement far out of proportion to their tiny size.
"By late winter, I'm so thrilled to see a flower," says R. William Thomas, executive director of Chanticleer Garden near Philadelphia. "Bulbs give a display ... when there's not much color."
Bulb enthusiasts urge gardeners to be as bold as the budget allows and plant dozens, hundreds, or even thousands. Using bulbs en masse and in combinations with existing flora make that long-awaited show all the more impressive. Downtown Chicago's Lurie Garden, for example, has 60,000 bulbs packed into its 2.5 acres. Planted last fall, "it really looked stunning in the spring," says Colleen Schuetz, the Lurie's head horticulturist.
While many public gardens fill formal beds with stately tulips, the Lurie Garden blends bulbs into the naturalistic look of the garden's perennials. Pairing bulbs with perennials works on a smaller scale in a home landscape as well. And the emerging foliage masks the fading bulb leaves. Home gardeners, Mr. Thomas says, can adapt some of the approaches used at Chanticleer, a garden known for its arresting use of color and plant combinations.
---