Mind your peas and pods
Spring is the season to enjoy fresh green peas and sugar snaps.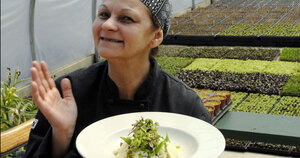 Joanne Ciccarello – staff
Peas have long gotten a bad rap. "Eat your peas!" is a classic parent mantra, calling up images of stern mothers hovering over their children as they watch them painstakingly gulp down every last pea on their plates. But more and more, peas are not a dreaded guest at the dinner table but rather a welcome addition to any menu.
Just ask Jennifer Verrill, co-owner with her parents of Verrill Farm, a popular farm stand, bakery, and deli in Concord, Mass. "Those first peas of the season are just as exciting as the first stalks of asparagus," says Ms. Verrill, who is partial to sugar snap peas. "I love all peas, but the snap peas are so easy since you don't have to shell them."
She and other chefs at Verrill Farm cook both traditional English peas and snap peas, incorporating them into salads, stir-fries, risotto, and a vibrant green soup.
And when Verrill returns home, she serves peas to her two young daughters, who don't have to be told to clean their plates. "It's one of the only vegetables they will eat," she says, adding that the girls like to pop the peas out of their pods – in their home kitchen and in the fields at the farm.
Verrill's father, Steve, devotes about half an acre each to the sugar snap peas and English peas (also called garden peas or green peas). When researching different varieties of peas, he looks for ones that are great tasting and have short vines that don't require trellising.
---