Go ahead, uproot my herbs!
The blue jay had his own plans for my sprouting garden.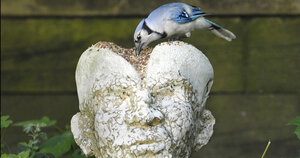 Bob Luckey/Greenwich Time/AP
During the 22 years I lived in midtown Manhattan, I never gardened. When I moved to the Emerald City, I learned that gardening is practically a requirement for citizenship – a perfect opportunity to try my thumb at it.
My 6-by-8-foot redwood balcony wasn't exactly a yard, but it was outdoors, and exposed to lots of Seattle precipitation and occasional sunlight.
To learn my new hobby, I chose to plant herbs – mainly because it bugged me to pay $4.99 for three scrawny sprigs of rosemary at the grocery store when I had noticed on walks around my new neighborhood that this plant grew in abundance.
I purchased containers, potting soil, seedlings, and a trowel and got to work. I planted a different herb in each of the 12 pots I lined up on the railing surrounding my balcony. Every morning, I looked out my kitchen window and watched as fragile stems of cilantro, oregano, and marjoram waved in the gentle spring breezes.
One morning, I heard squawking. A cobalt-blue bird, looking much like a crowned blue jay, balanced on the rim of a hand-painted pot. With his sharp black beak, he yanked out a stem of mint. His vertical black eyebrows moved up when he turned and looked at me.
"Hey!" I yelled. "You put that back." He took off for a conifer 10 feet away.
I opened the door and examined the wreckage. Three stems had been wrenched away, leaving quarter-size divots atop the soil. I called out after the jay, "I paid $1.99 for that plant, you little hoodlum."
I sat at my computer and Googled "types of blue jay." I discovered that my little thief was a Steller's jay, and he wasn't eating my herbs, he was using them as nesting material. Oh, no – how big a nest would he build?
I returned to the window. The jay landed on the rim of a brass container. He cocked his head and ripped out a pale green sprout of parsley, not three days old.
"Hey! This is not New York City – it's not like there's a shortage of green things here!"
---