Gardening in the city
Urban gardeners have many opportunities to grow vegetables and flowers, even if they live in apartments.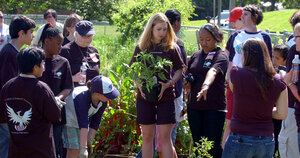 Steve Slocum/AP
Cucumbers are cool and peppers are hot, as many people are showing renewed interest in growing their own vegetables. Today's vegetable gardens come in a variety of sizes, shapes, and styles, and can be found in backyards, on patios, even on rooftops.
A national survey from the Garden Writers Association Foundation found that vegetable or fruit plants are second on the list of plants gardeners plan to purchase this spring – up from fourth place just a year ago.
There may be several reasons for this increased interest in vegetable gardening. Skyrocketing gas prices and increasing food costs at the grocery store are pinching our wallets. Safety issues cause us to want to know where our food comes from. Concern about the environment is forcing us to look at how best to use our natural resources.
Vicki Nowicki of Downers Grove, Ill., a gardener for more than 25 years, loves to grow her own vegetables because "I can just walk outside my door and pick my vegetables." Vicki says she doesn't have to use gasoline or pollute the air driving to the store and the vegetables are ready to eat at their peak of freshness.
Better variety and flavor are other reasons. "I can grow what I want to grow and not be limited to the few "tastes" you find in a grocery store." She finds homegrown food to be fresher, higher in nutrition, and feels it simply tastes better than store-bought produce.
While many of her vegetables are planted in the ground, others – including herbs, lettuce and peppers – are growing in containers to keep rabbits from eating the plants.
Containers give Vicki greater flexibility too. She moves them to take advantage of the changing sunlight throughout the seasons and finds they are great for filling in the empty garden spaces after a crop has been harvested.
---