WWOOFing in Normandy
Tending an organic farm is exhausting and exhilarating.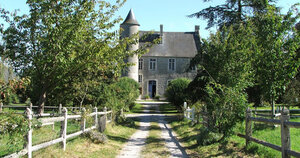 Emily Badger
June wanted to know if I had any gardening experience, and sheepishly I e-mailed back something about my background in "small-scale urban" agriculture, thinking of the failed 9-by-9-foot vegetable plot I'd had in the backyard of my family's three-flat in Chicago when I was 12.
To tell the truth, I knew nothing about farming, couldn't tell the difference between a trowel and a shovel, straw and hay, a large sheep and a really small cow.
But, then, that was part of the fun. I had a couple of weeks to kill in Europe, and in the middle of a sleepless night at my apartment in Paris, it was suddenly obvious that I should go work on an organic farm – if for no reason other than to e-mail my urban, laptop-tethered friends back in the States, "And now I'm going to go work on an organic farm!"
So I came to be e-mailing with June, the English owner of a 16th-century chateau and 20-acre organic plot in Normandy.
I found her through the network of World Wide Opportunities on Organic Farms, which made me a potential WWOOFer, her a "WWOOFer host" and our joint venture – my labor in exchange for her guest room and cooking – something called WWOOFing.
There are, it turns out, thousands of people in the world who say these things regularly. The directory listed 343 farms in France alone.
I've never been particularly organic, and I had a vague sense that my best qualification for this job was that I like to do yoga, which is something organic people seem to like, too.
The movement, though, doesn't draw the bulk of its WWOOFers from farmers hoping to bring new organic techniques back to their own backyard polytunnels.
---