How to get picky kids to eat veggies? Have them grow their own.
Preschoolers more willing to eat veggies they've grown, touched ,or explored for themselves.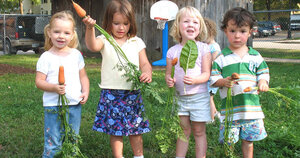 Courtesy of Early Sprouts
Manchester, N.H. – A New Hampshire program that gets kids to eat vegetables by having them cultivate their own gardens is being praised by the nation's top public health official.
Acting Surgeon General Steven Galson visited the Rose Byrne Child Development Center on July 8 to recognize the Early Sprouts program, which was founded two years ago at Keene State College in Keene, N.H.
The program, which has since spread to 10 preschools throughout the state, is based on research indicating that children are more willing to taste a new food when they have touched, smelled, and explored it or grown it themselves.
Early Sprouts is a low-cost way to teach children the benefits of proper nutrition and how to grow food, Dr. Galson said in presenting Keene State health science professor Karrie Kalich with a "Champion Award."
"Kids have to learn how to eat better, and the earlier the better," Galson said. "Kids have to understand fruits and vegetables aren't the enemy."
---
Follow Stories Like This
Get the Monitor stories you care about delivered to your inbox.