A garden becomes a work of art
Botanical artist Mindy Lighthipe taps her creativity to shape her changing garden.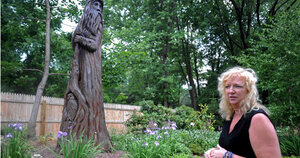 Photos by Ann Hermes
When botanical artist Mindy Lighthipe and her husband, Joseph Annicchiarico, bought their two-acre lot in suburban New Jersey eight years ago, the backyard was mostly grass. "It looked like a football field," says Ms. Lighthipe.
She was a novice gardener at the time, but she reimagined the football field as a blank canvas and set to work creating a vivid garden picture. Now her living, changing work of art features an expanding purple house, a 20-foot-tall "wizard," a beehive, a small waterfall, and a vast array of plants.
Ms. Lighthipe, whose former job title was botanical art and illustration coordinator at the New York Botanical Garden, started small. "I went to the garden center," she says, "and bought what I liked and what I could draw."
Guided by her artist's eye, she carved new beds and moved plants around until they came together in pleasing combinations.
She used her favorite color – purple – in many places, but found that purple flowers looked invisible if planted too near the purple house.
Over the course of several years, Lighthipe also discovered that the combination of hungry deer and specimen plants worked well for the deer but not for the plants.
After many attempts to discourage the animals with repellent sprays, she finally installed deer fencing last year.
The house and garden grew simultaneously. Two years ago, her mother, Nannette Lighthipe, moved into a newly built addition, bringing most of the plants from her former garden.
Now the weirdly contorted branches of a Harry Lauder's walking stick shrub are the focal point of one of the new beds that surround the expanded house.
---