Wild green Bronx
The Bronx is blooming - and bursting with gardens, birds, and parks.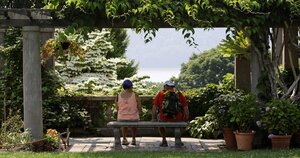 Photos by Kathy Willens/AP
NEW YORK (AP) — Ladies and gentlemen, the Bronx is blooming!
Despite its urban image, the Bronx has 7,000 acres of park land, about 25 percent of its total area. In addition to Yankee Stadium and the Bronx Zoo, the borough's green spaces include the New York Botanical Garden; a 19th century garden overlooking the Hudson River called Wave Hill; and Van Cortlandt and Pelham Bay parks, where you can bird-watch, play golf and ride horses.
New York City is touting the Bronx's green attractions in a new promotion.
"Most people don't think of the Bronx like that. We want to open their eyes to the actual physical beauty of the Bronx," said George Fertitta, CEO of NYC & Company, the city's marketing and tourism organization.
It's quite a turnaround for a place that once symbolized urban decay.
---
Follow Stories Like This
Get the Monitor stories you care about delivered to your inbox.