Insects beware! These plants want you.
Carnivorous plants are fascinating to the 12-year-old in us all.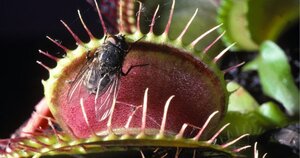 NEWSCOM
I lived in Maine for several years before discovering that it had a unique group of plants that one normally associates with warmer climes: carnivores.
I had learned about insect-eating plants while a high school biology student in New Jersey. The information, however, was abstract. I had never seen a carnivorous plant and never really expected to.
But as a kid reared on monster movies like "The Day of the Triffids," in which humongous mutant plants take over the world, the very idea had great appeal.
And who could forget "Little Shop of Horrors" and the insatiable Audrey II, whose appetite went well beyond flies?
And then, one day, I saw a display of Venus' flytraps in an A&P. They were small, young plants, in containers with clear plastic domes. For $2.98, how could I go wrong?
I took one home and reared it until one of the traps matured. I tried to insert a fly I had captured, but it flew off, so I substituted a BB-size piece of chopped meat, which the plant clamped down on with great enthusiasm.
Two weeks later, however, my flytrap shriveled up and died. I later learned that the Venus' flytrap is native to the wetlands of North Carolina. The transplantation to Jersey City must have been too much.
---