Raising vegetables in Canada's midnight sun
Growing vegetables in a community garden more than 120 miles above the Arctic Circle.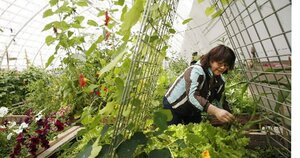 Photos by Todd Korol/Reuters
INUVIK, Northwest Territories
Amanda Joynt reached down and picked a fresh tomato from the vine. That's no small feat when you are living 120 miles above the Arctic Circle in Canada's Far North.
Ms. Joynt, a resident of Inuvik, is a member of the town's community greenhouse, a former ice hockey arena that has been converted into an oasis of vegetables and flowers on the permafrost.
The building, shaped like a half-pipe, is North America's northernmost commercial greenhouse, and all but a necessity for anyone interested in eating a fresh vegetable in Inuvik that has not been shipped in from a warmer climate at a startlingly high cost.
"The growing season is really short here. May is mud month, so June is when things begin to green-up, and by now everything is turning into fall," Joynt said.
Inuvik's annual mean temperature is minus 14.5 degrees F., according to local officials.
The facility's indoor growing season lasts only from mid-May to late September, but it protects the plants as they soak in the sunlight that for 56 days each summer keeps the town in daylight 24 hours a day.
"That's what makes things possible ... the constant light accelerates the growth. I think it either doubles or triples the growth," said Lucy Kuptana, who admits it can feel strange weeding a garden at 3 a.m. in full daylight.
---