New York City rail line becomes park
Once wilderness amid bustle, an abandoned rail line gets a new life.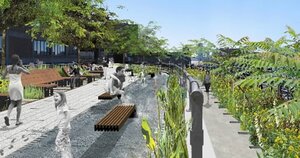 Field Operations and Diller + Scofido + Renfro/AP
Joshua David remembers vividly the first time he stepped out onto the rusted-over elevated railway track that snaked above Manhattan.
"It was this incredible, hidden landscape that was invisible from the street that just stretched for blocks and blocks and blocks — as far as you could see," he recalls. "All these grasses and wildflowers and trees, hidden like a secret garden in the middle of the city. And it just made your heart rise."
There was no public access to the shock of green above the rusty underbelly of the High Line railway. With wrecking balls looming, Mr. David helped lead a campaign to turn the abandoned track, winding through a desolate corner of the city, into a public park.
Now, with the first section of the $170 million High Line park set to open by the end of the year, the city's residents are about to get their opportunity to see whether the project's designers have succeeded in maintaining the sense of wilderness that so many found so evocative.
"We wanted to hold on to the magic of this landscape," architect Ricardo Scofidio says. "There is that edge of vulnerability between this society that we have perfected and these small blades of grass that are able to split open sidewalks and grow in the cracks."
Decades before the greenery overtook the track and the surrounding warehouses developed a ghost-town feel, the High Line once carried cargo trains directly through factories and other buildings.
Built following a 1929 agreement, the elevated rail — once 13 miles long — carried milk, meat, vegetables and manufactured goods through the city.
In the 1950s, when truckers started carrying the same goods through the city and beyond, rail traffic dwindled. And in 1980, the final High Line train stopped running.
Shrunken to span just 22 blocks along the far west side of midtown Manhattan from Hudson Yards to the Meatpacking District, the tracks grew into wilderness over more than two decades of disuse.
---