A blooming backyard desert
Cacti now flourish where a lawn had once struggled to survive in the Arizona sun.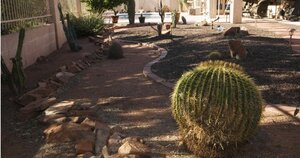 Photos by Robert Harbison/Special to The Christian Science Monitor
To some, a garden must be lush and green with flowers, plants, manicured lawns, bushes, hedges, and trees. We had one of those when we lived in New Jersey. Our chores included mowing, raking, trimming, removing weeds, and maintaining. It was a labor of love, and it looked beautiful.
When we moved to Arizona's Sonoran Desert, however, we were aware that maintaining a garden would be nearly impossible. How could we get color in a backyard when water was a commodity and daily temperatures would burn most plants?
But when we built our house, the landscapers we hired tried to re-create New Jersey in our backyard – and we tried to maintain it. We had a lawn that we mowed when it was 110 degrees F. in the shade.
We filled bare patches with grass seed where the sun burned the old. We planted things only to realize that if something isn't indigenous to the area, it's difficult to keep it alive. We installed a drip-irrigation system, but one by one, our bushes and plants died.
Then we had a revelation. We decided that since we saw beauty in the desert, we would focus on that instead of trying to re-create what worked in another part of the country. We would have a picture-postcard desert paradise right in our own backyard.
The concept is called xeriscaping. The idea is to decrease the harsh effects of the desert climate and increase energy efficiency by understanding the challenges and options available.
---