Last tree-sitters come down from California redwoods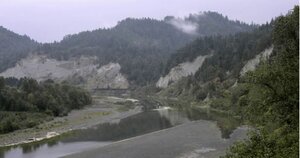 Photos by Rich Pedroncelli/AP
After more than 20 years of protests, the last two people living in the giant redwoods of northern California were climbing down for good, convinced by the new owners of the forest that the ancient trees would be spared from the saw.
Still, the tree sitters looked rather lost.
Having lived nearly 200 feet off the ground for 11 months, Nadia Berg — who calls herself Cedar — seemed unsure of her footing on the lush forest floor of Humboldt County's Nanning Creek grove.
Cedar had made herself at home in a tree dubbed Grandma, a massive double redwood joined at the base, and had grown accustomed to the whistles and whispers and ways of the woods.
"Being here, for me, hasn't been a sacrifice," said the 22-year-old Alberta native, still in her harness after rappelling down Grandma last week for the final time. "I feel so honored that I could be here for the trees."
Ms. Berg's neighbor, Billy Stoetzer, a 22-year-old activist from the Missouri Ozarks, came down last week, too, after living for nearly a year in a hammocklike shelter in the branches of Spooner, a 300-foot mammoth at least 1,500 years old.
With that, the great timber wars of the North Coast came to an end.
---