A Picturesque garden in the Azores
Terra Nostra Park brims with warm waters and leafy groves.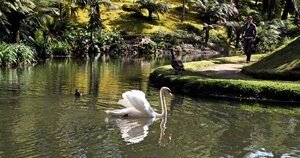 Photos By Bill Regan
Old gardens possess a grace impossible to bestow through artistry alone. The velvety patina of moss in the cracks of concrete and stone; the calm inhabiting the space beneath old trees; high-flying branches shaped by decades of wind – these cannot be produced by anything but time.
Terra Nostra Park, a 31-acre public garden in Furnas, an old resort village on the largest island in the Azores, can claim all of these hallmarks of aged beauty.
The gardens also contain water in all its Picturesque-style forms: a lagoon, canals, streams, and ponds. Terra Nostra ("Our Land," in Portuguese) is as deliberately drenched in romance and mystery as it is in sensory pleasures – color, fragrance, and the various sounds of water.
The Picturesque, a garden type that evolved on the estates of English nobility in the late 18th century and spread to continental Europe and America, emphasized a sequence of carefully composed scenes.
As visitors strolled on foot (or rode in a carriage) along a winding path, each turn revealed a delightful new picture.
Like most things in the Azores, a string of volcanic islands more than 900 miles from mainland Europe, this garden type was imported. The first to settle on this property was Thomas Hickling, a merchant from Boston and the US consul on São Miguel.
In 1780, Hickling built a modest wooden house on about five acres of land, where he planted trees from North America. (The island has a moist, temperate climate, with year-round temperatures ranging only between the high 50s and the high 70s (F.).) Today, the only tree old enough to have been planted by Hickling is an English oak.
---