Is this really New York or are we in the tropics?
Heat-loving plants thrive in a Long Island garden.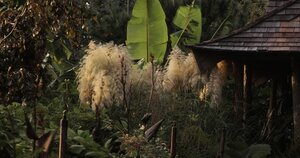 Photos by David McDonald
See that photo of the banana tree above? No, your eyes do not deceive you. Yes, it shows the east end of Long Island and, yes, the landscape includes a grove of banana trees – close to 100 of them, about 16 feet tall.
Close your eyes and you can almost feel the tropical breezes rustling the giant leaves.
And, yes, although this garden is in New York State, those are palm trees over there, their fronds gently clacking in the ocean breeze.
And, yes, there is Dennis Schrader, smiling for all the world like a man who has turned nature and climate on its collective head.
Mr. Schrader and Bill Smith run a wholesale nursery on their 17-acre farm, but about 2-1/2 acres have been crafted into gardens around the house, a landscape firmly in the throes of zonal denial.
"We're a few blocks from the Long Island Sound and a couple thousand feet from Mattituck Inlet, so we're surrounded by water," Schrader says. "It's a big help. There's lots of reflected light, and the water moderates the temperature in fall. This is one of the last places on Long Island to get frost. But on the other hand, it takes a little longer to get warmer in the spring."
Welcome to island living in the Northeast's little banana belt.
---