An American at Swiss gardening boot camp
My balcony garden was a disgrace, but my neighbor knew exactly what to do.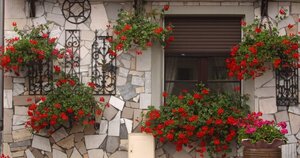 Newscom
Don't get me wrong. I love planting flowers. It's just the watering, trimming, and weeding that I'm prone to forget. So naturally, I've always enjoyed the fall, when blankets of red and gold cover my neglected garden, causing me to forget for another few months that my thumb will never be green.
But then I moved from my tree-filled yard in Richmond, Va., to an apartment in Switzerland so my husband could pursue a work opportunity. While my new home included a wraparound balcony with an already built-in bounty of little bushes, herbs, and some other suitable plants, it did not include my usual cover, the tree.
Nevertheless, I was happy to inherit such a simple container garden. No grass meant no mowing, so with the extra time, I attempted some watering and trimming. And even though my Swiss geraniums failed to cascade in neat bunches over the edges of our concrete planters as Swiss geraniums always do, I considered myself a success and "planted" a little American flag in the midst of it all.
Of course, I couldn't compete on my neighbor's level. Over the summer, her balcony was filled with exactly 151 geraniums (all cascading in the proper Swiss fashion). Each plant was treated with the amount of care only she could give. Weeds were pulled out before someone like me could tell they were weeds. Fading flowers were clipped off before they had finished fading. And even in autumn, every stray leaf was immediately swept up.
While our 73-year-old neighbor called her container garden her "paradise," ours was about to be labeled a "Katastrophe."
Unfortunately, this was one of those German words so close to English that I could figure out its meaning. So there was no imagining she was praising my efforts when our neighbor appeared one week, asking innocently, "May I go on your balcony?"
When I let her inside the apartment, she immediately ran out to the balcony, like an eager kid running from the car to a playground. It was then that I noticed she was wearing knee-high rubber boots and carrying a trimmer, a bucket, a broom, and a few other items that looked foreboding.
---