Seed bank for the world threatened by the poor economy
Funding is drying up for Millennium Seed Bank Project.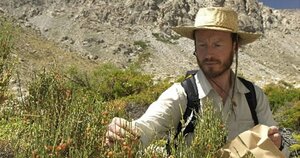 Reuters
A seed bank that is trying to collect every type of plant in the world is now under  threat from the global financial crisis, its director says.
The Millennium Seed Bank Project aims to house all the  300,000 different plant species known to exist to ensure future biodiversity and protect a vital source of food and medicines, director Paul Smith said.
The project is on track to collect 10 percent of the total by 2010 but the financial crisis is drying up funding, casting serious doubts on future collections, he said.
About half the funding comes from the National Lottery and the rest from corporate donations.
But with businesses tightening their belts in the economic downturn and preparation for the 2012 London Olympics sapping lottery money, the pot is about to run dry.
Mr. Smith hopes government money and international groups will come through with the nearly 10 million pounds per year needed to keep the bank going. But if that does not happen, new collections and research will stop, he said.
"We would say that this is an exceptional bank and that the assets within it, the capital that we have built up, is unique and we can't squander this," Smith told Reuters Television during a tour of the facility south of London.
Each seed costs about 2,000 pounds to collect and store.
The Millennium Seed Bank Project is the only project of its kind in the world which aims to collect and conserve all the planet's wild plant diversity, Smith said.
---