Flower shows brighten winter's gray days
Think spring by attending a nearby flower show.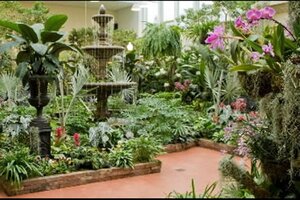 Brent Johnson/Missouri Botanical Garden/AP
Enough already with chilly gray winter. Time to pick up a bouquet of bright pink tulips and start thinking about spring.
In many places, it will be weeks before daffodils and hyacinths start peeking through the ground, but there are plenty of flower shows to see in the meantime.
Some are big annual events with themes that change every year, such as the famous Philadelphia Flower Show, this year March 1 to 8 with a "Bella Italia" theme,  (tickets, $22).
Other displays focus on one type of flower, such as the various orchid shows that showcase the jungle plant's intense blooms at gardens and exhibit halls around the country.
One of those annual orchid shows held each year just as the cold weather starts to lift is at the New York Botanical Garden."We're in the last gray days of winter," says Marc Hachadourian, curator of NYBG's Glasshouse Collection. "What better place to be than a tropical paradise filled with exotic orchids?"
Here's more information about orchid shows scheduled soon. Following is a list of other flower shows:
-  The New York Botanical Garden in the Bronx hosts its seventh annual orchid show, this year showcasing the plants in a contemporary Brazilian garden design with fountains, pools, mosaics, and palms. "The Orchid Show: Brazilian Modern" takes place Feb. 28 to April 12. The garden is open Tuesday-Sunday, 10 a.m.-6 p.m.; admission, $20.
---