The sweet charms of lavender
This plant's appeal goes far beyond its signature scent.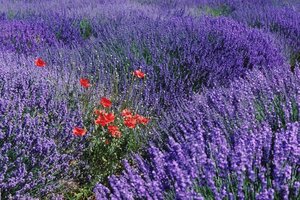 NEWSCOM
Rosemary may be known as the herb of remembrance, but it is the unmistakable perfume of lavender that transports me to days gone by: a stroll through an English garden, an after-shave my dad once wore, a sleep pillow handcrafted by a neighbor.
If the evocative fragrance were its only attribute, lavender would still be well worth growing. However, scent is just the start.
Lavenders are also perfect choices for edging and low hedges, as well as accents and splashes of color throughout the garden.
Lavender is native to the Mediterranean region and has been used to perfume and cleanse for some 2,500 years.
Ancient Egyptians wrapped their dead in shrouds dipped in lavender. The Greeks thought that it deterred all manner of ills from insomnia to insanity.
Its fresh scent made it a favorite with the Romans, who used the herb extensively in bath water. Small wonder that its name comes from the Latin word lavare, which means "to wash."
The Elizabethans scattered lavender on the floor to perfume their houses, deter insects in the linen closet, and mask displeasing odors. It was also sold on the streets of London by vendors who claimed that branches of lavender fastened to each wrist could ward off the plague.
About the same time, lavenders were used in elaborate knot gardens designed to resemble intricate embroidery designs of the day.
American colonists brought lavenders to America from England. A number of species are cultivated throughout the world, but in the United States, our best performers are English, Spanish, and French, and the lavandins (a class of lavender hybrids.)
---