No-till gardening feeds the soil
In no-till plots, the soil is not plowed, which reduces water runoff and evaporation losses.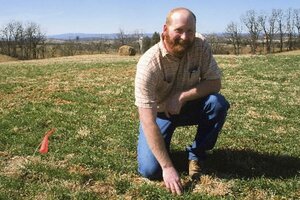 Dean Fosdick/AP
At bottom, gardening is all about dirt — its care and feeding, its microbes and fungi, bacteria and earthworms.
Science has gradually recognized that the soil's vibrant but delicate food web must be treated carefully to produce the best yields. Turning the soil before planting is generally conceded to be more disruptive than building it up year after year with rich natural substances.
"We lose organic matter whenever we till the soil," says Mark Alley, an agronomist and professor of soil fertility and management at Virginia Tech. "That practice adds up a lot when you think about certain areas of Virginia having been tilled for more than 400 years."
No-till growing means adding layers of plant and animal matter to the topsoil rather than plowing, shaping, and otherwise disturbing it.
"It reduces runoff and evaporation losses, increases organic matter in surface soils, which increases the rooting environment for seeds," Dr. Alley says. "All this makes things more productive."
Farmers began to embrace the no-dig philosophy in the mid- to late 1970s with development of a no-till corn planter, says Brian Jones, an extension agent for Virginia's Augusta County.
"It was prompted by technical innovations along with increased farmer awareness about conservation," says Mr. Jones, who doubles as coordinator of the Virginia No-Tillage Alliance. "They were becoming concerned over how much soil they were wasting each year. Now, more than 50 percent of the state's farmers have switched to no-till."
---