Orchids with a Brazilian flair
The New York Botanical Garden's orchid show this year honors the father of modern landscape architecture, Roberto Burle Marx.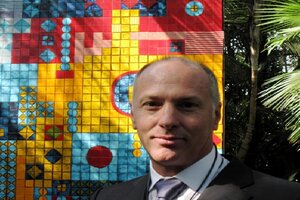 Photos by Carol Strickland
"Fusion" is a hot concept in cuisine and music. Now it's migrated to horticulture. "The Orchid Show: Brazilian Modern" at The New York Botanical Garden through April 12 is a fusion of Victorian-era taste (with its mania for orchids displayed in a glass conservatory) and modernism, specifically the swooping, swinging art forms of contemporary Brazil.
Miami-based landscape architect Raymond Jungles (with a name like that, could he be anything else?) designed the show as an homage to his mentor, Roberto Burle Marx, a painter by training, who died 15 years ago at age 84.
In Rio de Janeiro, Marx was renowned as an artist, garden designer, plant collector, defender of the rain forest, and all-round bon vivant. After Mr. Jungles graduated from the University of Florida in 1981, Marx took the younger man under his wing. Marx's revolutionary aesthetic still nourishes his protégé like rich compost.
---