Garden goofs: If only I'd known then what I know now
A gardener reflects on his many mistakes – and successes.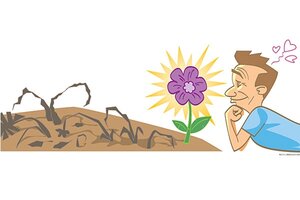 Rich Clabaugh/staff
I figure that a plant is not garden-worthy in my landscape unless I have killed it not once but three times.
So skeptics might say that my gardening motto is "Been there, killed that."
Much of this delusional planting is the result of zonal denial (surely this lovely euphorbia can take our Siberian winters in Iowa), disagreements with nature (I say this low spot is a bog, and the skunk cabbage will endure), or my iron whim. (This Japanese snowbell is the most gorgeous tree I've ever seen. What can I lose?)
Well, I lost that tree – and all those other spiffy plants. Lessons learned; and expensive ones at that.
But sometimes I kill plants because I am an ignoramus. Take the time I planted tree ferns upside down. I kid you not.
Trying to save money, I bought the usually towering trees as corms that looked kind of like shaggy coconuts. I planted them in back of the house and waited. And waited.
If that raccoon hadn't dug one of them up a couple of months later, I would never have known that the poor dears were struggling to grow toward the earth's core.
I did unearth and upend them, but, alas, the damage was done. They were all tuckered out.
So you'd think that 10 years later when I planted a grouping of bare-root ostrich ferns at a new home in a colder climate, I would have gotten up and down straightened out.
Wrong.
They, too, were trying to take a journey to the center of the earth. But at least this time, because I had my suspicions, I didn't wait so long to dig them up.
The result, however, was the same. You might think I'd have been doubly discouraged. But no. Somehow, in my twisted reasoning, I felt vindicated.
---