Bee college is all the buzz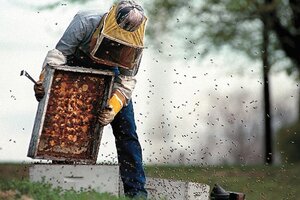 Margaret Clarkin/Independence Examiner/AP/File
Barehanded, David Barnes lifted off the top of a wooden beehive and eased out one of half-a-dozen frames loaded with honeybees as several dozen people edged in closer around him during the first day of the University of Florida's Bee College.
He didn't warn them not to try this at home. After all, the purpose of Bee College is to get more beekeepers. He did caution them to remember how they'd feel if someone came along and took the roof off their house.
The beekeepers in training smiled at the notion, but got the point.
About half of them were wearing white beekeeper overalls, hats, and veils. Mr. Barnes, a state bee inspector with the Florida Department of Agriculture and Consumer Services, wore a hat and veil, but was casual about the rest of the gear.
He'd already used a smoker on the bees to cause disorient and temporarily confuse the colony so they're easier to work with.
"Bees are gentle ... most often they won't get upset," Barnes said, cautioning the beekeepers to be deliberate and calm in their motions when dealing with bees. But, he warned, there are exceptions.
The crowd listened intently, even the ones who have been in the beekeeping business awhile.
As Barnes explained at the start, there are always new things to learn.
Agriculture experts are hoping lots of people learn about honey bees and start keeping bees.
---