The prairie that became a beloved garden
Henry Shaw's quest to tame 'uncultivated' land and transform it into the Missouri Botanical Garden is celebrated 150 years later.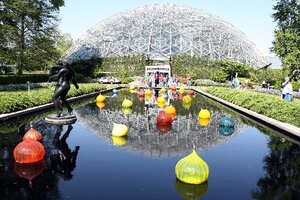 NEWSCOM
Young Henry Shaw, only 18, was selling cutlery out of a rented room in St. Louis when a chance, half-day journey out of town on horseback one spring day in 1819 led him to his destiny — the prairie that would become his garden."Uncultivated," the Englishman recorded, "without trees or fences, but covered with tall luxuriant grass, undulated by the gentle breeze of spring."
Forty years later, in 1859, the wealthy former businessman-turned-philanthropist opened on the land he so loved a botanical garden for his adopted city's residents.
The treasure Shaw established "for all time for public good" on June 15, 1859, would become the Missouri Botanical Garden, an urban oasis of splendor and beauty, and one of the nation's oldest botanical gardens in continuous operation.
Longtime St. Louisans still affectionately refer to it as Shaw's Garden, for the British businessman who made his fortune in hardware here, retired at age 40 to travel the world, and found inspiration in the great gardens of Europe.
A National Historic Landmark, the Missouri Botanical Garden is widely considered one of the top three botanical gardens in the world, a center for science and conservation, education and horticultural display.
"There's no place like it, over and above the Kew Gardens," said Dr. Martin Gordon, a retired professor of medicine at Yale University. He recently visited for a film he's doing on plants' medicinal value. "It's such a warm and friendly place, an invaluable institution, suitable for all ages — and addicting."
---