Watch a landscape evolve before your eyes – online
A new website provides a virtual view of a New York Botanical Garden installation being designed by landscaping surperstars Piet Oudolf and Jacqueline van der Kloet.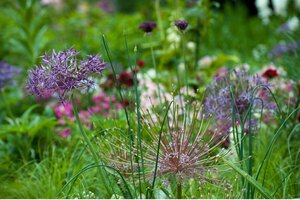 Photos courtesy of the Netherlands Flower Bulb Information Center.
Want to team up with Piet Oudolf? Train with Jacqueline van der Kloet? Now, via the Seasonal Walk Chronicles website, you can join these wll-known Dutch landscape design superstars in an online rollout of their landmark collaborative Seasonal Walk installation at the New York Botanical Garden in the Bronx, N.Y.
The designers' highly naturalistic concept, sophisticated plant mixes and artistic interplay of form and color, are causing real excitement at the Garden, where many are referring to the design as "pure genius."
The website offers a first-ever online opportunity to track a conceptual landscape design as it matures and evolves over a full growing season. The website is a teaching tool, featuring how-to sections detailing the design team's innovative planting techniques and their stellar plant combinations. Visitors should find abundant ideas, large and small.
Via biweekly chronicles and picture galleries, the site allows visitors to focus on "what's happening now" in the garden, while revisiting the evolution of different plant combinations and sequences over the seasons.
Documenting the site are award-winning gardening professionals, writer Tovah Martin and photographer Rob Cardillo. Ms. Martin captures the plant and design interplay via evocative on-the-scene reports. Her chronicles also incorporate design observations from the two designers and hands-on execution notes from the New York Botanical Garden's crack team of gardeners.
Mr. Cardillo contributes lush photography that visually documents the sophisticated design as it unfolds, including occasional unexpected contributions from nature.
Already posted are the November planting, and the spring bulbs and early perennials season. Next comes the intricate dance of flowers, foliage and form over summer and into fall and winter.
---