A mailbox garden that delivers
Send a message with curbside landscaping.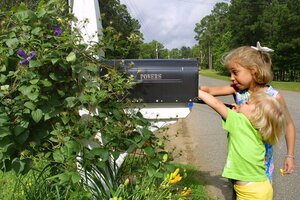 NEWSCOM
Enthusiastic gardeners find it hard to resist any area of their yard that will take to a bit of landscaping, whatever the challenges. And challenges there are aplenty when beautifying the area around a mailbox.
But that hasn't stopped keen gardeners like Colleen Heck. She created a small bed around her mailbox and it's now in full bloom. Wanting to attract birds and butterflies, she selected shasta daisies, Whirling Butterflies (gaura), marigolds, gladioli, balloon flowers (platycodon), salvia and day lilies that light up this mini landscape as they wave gently in the breeze.
"My idea is to make a bouquet in the ground with something always popping up — like the fireworks on the Fourth of July," Heck said. To achieve this, she changes out the plants seasonally so that there is always something in bloom.
The Star-News of Wilmington reported that Colleen, her husband Charles Heck, and their two children, Caroline and Carson, live in a quiet neighborhood off Greenville Loop Road where her little curbside garden really stands out.
---