In Maine, and other states, local fare is on the Fourth of July menu
A sustainable food advocate inspires governors' offices around the county to hold an "Independence Food Day," where they will serve foods native to their region.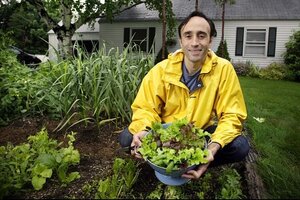 Robert F. Bukaty/Associated Press
On the day Americans celebrate the land of the free, a Maine man wants governors to feel free to live off the land.
A sustainable food advocate who campaigned for the Obamas to plant a garden at the White House has now received pledges from several governor's offices to feature local foods on their Fourth of July menus, from Maine lobster to South Dakota pheasant jerky to milkshakes made with Montana huckleberries.
Roger Doiron said he was inspired to lobby governors to promote locally grown food after a patch of White House lawn was turned into an organic vegetable garden this spring.
"I said to myself, 'Maybe we should try to look to other first families to eat by example and use their Fourth of July to make that happen,'" said Mr. Doiron, who wants to brand the holiday "Food Independence Day."
Doiron is founder of Kitchen Gardeners International, a nonprofit that promotes food self-reliance through kitchen gardens and sustainable local food systems. Local foods are good for the palate, the health, local economies, the environment and your wallet, he said.
---