Tips to keep deer and other wildlife from munching your plants
Fences and deer-resistant plants are among some of the ways to keep unwanted four-footed guests out of the garden.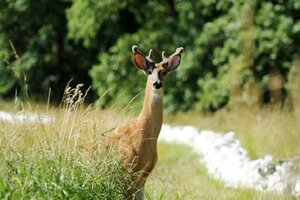 NEWSCOM
Homeowners want to enjoy looking at lush plants, but don't want wildlife to enjoy consuming them.
If your plants are getting eaten, the most common culprits are deer. The US population of whitetail deer has ballooned to roughly 29 million from 300,000 in 1930.
Neil Soderstrom offers tips on dealing with the population growth in his book "Deer-Resistant Landscaping: Proven Advice and Strategies for Outwitting Deer and 20 Other Pesky Mammals" (Rodale, 2008).
– Start by keeping deer away from your plants. Fences must be eight feet high to keep deer from jumping them. Many county codes allow six to seven feet. If you must have a lower fence, widen the horizontal distance deer must jump with tall, spreading deer-resistant shrubs along both sides of the fence.
A stiff plastic mesh fence that comes in rolls can be wrapped around and drawn between trees for support in woodland areas without staking. It's black and not very visible. One of the best known is Benner's Deer Fence (800-753-4660, www.bennersgardens.com). Also check see-through mesh netting available under the name Virtually Invisible Mesh Barrier (www.deerfence.com).
– Use plants that deer don't like – those with sticky or hairy leaves; thick, leathery foliage; medicinal uses; or minty or lemony fragrance. Deer prefer fertilized and irrigated plants. The more accustomed they are to people, the better the chance they'll eat ornamentals. If they're hungry, they'll try almost anything.
The evergreens that have the best chance of surviving deer are firs, American hollies, junipers, spruces, cryptomerias, boxwoods, cherry-laurels, mahonias, and viburnums.
To find deer-resistant plants, check out the West Virginia University Extension Service's information on ornamental trees and shrubs (http://www.wvu.edu/~Agexten/hortcult/treeshru/resistan.htm).
---