A guide to the season's most tantalizing tomatoes
Whether you grow your own or pick up a few at the farmers' market, here's a look at all the varieties and tastes.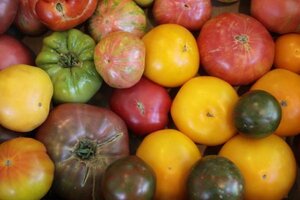 Eric Risberg/AP
Ready to hit the market in search of some great tomatoes this summer? Or thinking about expanding your garden next year? Here's a guide to some of the more common varieties and how to make the most of them.
BEEFSTEAKS
These are your big, red globe tomatoes. They can weigh in at a pound or more, with a six-inch diameter. They mix a tangy, acid bite with a touch of sweetness, creating a classic rich flavor.
"They're akin to a Burgundy," says Lawrence Davis-Hollander, author of the forthcoming book "Tomato: A Fresh-from-the-Vine Cookbook." ''Big, broad, lots of nice taste, but not as focused as some of the tomatoes that are less meaty."
These are juicy tomatoes, with lots of water. Beefsteaks come in more than 350 varieties. Brandywine is one of the most common varieties, but you might also come across Red Field Beauty, Soldacki, Cardinal, Matchless, or the Mortgage Lifter, which supposedly got its name because it helped its West Virginia propagator pay off his mortgage, Mr. Davis-Hollander says.
Often called "slicers" because of their size and meaty texture, these tomatoes are great stacked on a hamburger or BLT, or carved into wedges and sprinkled with salt. Or let them form the centerpiece of the meal.
"There's nothing like a big tomato on the center of your plate, or stuffed or served with balsamic and buffalo motz (mozzarella)," says Mark Toigo, a tomato specialist for Toigo Orchards in Shippensburg, Pa.
---