Shrubs: An inexpensive landscaping option
Flowers may lose their luster at summer's end, but shrubs, which require little attention, deliver multi-season interest.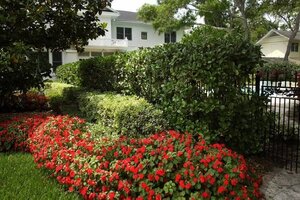 NEWSCOM
Blooms may be losing some luster among cash-strapped gardeners weeding out nonessential spending. A practical option is investing in an assortment of low-risk, high-return shrubs.
Few plants can return so much for so little attention as shrubs, which are long-lasting, colorful, cold-hardy, fast-growing, drought-tolerant, pest-resistant and utilitarian, and also deliver multi-season interest.
"They're really great green furniture for lots of people," said Sharon Yiesla, an extension horticulturist with the University of Illinois. "Forty or 50 dollars will give you a lot of annuals, but shrubs will last longer and perform more frequently. They may cost more initially, but over time, shrubs are a much better value."
While the renewed popularity of vegetable growing grabs headlines, people have been spending more on flower gardening and landscaping, said Bruce Butterfield, market research director for the National Gardening Association. In 2008, the total paid for food gardening was $2.5 billion, flower gardening $2.7 billion and landscaping $11.7 billion.
"I'm not sure how that's going to play out in 2009 because it seems like most people pulled the plug on spending for anything except for necessities," said Butterfield. "I also think that the mess in the real estate market and falling home values may hurt flower sales and landscaping."
---