A community garden brings people together
Residents find a feeling of neighborliness as they tend to communal vegetable plots.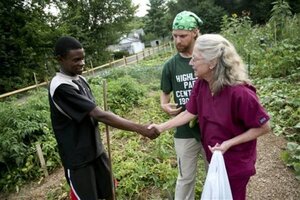 Kyle Green/AP/The Roanoke Times
The boy rode up on a wobbly girls 10-speed bike.
He dragged along a hose to water his garden, a pair of raised beds neatly bordered with stones and filled with beans, tomatoes and leafy greens, and opened the nozzle up to a heavy mist.
Ezekiel Shemezimana is 17, a refugee from Burundi, and he tends this plot to help feed himself and his parents.
"In my country, if you don't have garden, you die," he said.
A few yards away, Erin Pope plucked black plum tomatoes from her garden. The vegetarian and her boyfriend wanted to raise their own food and save money.
"It's our first time," she said. "I think it's a good first time."
The stories that go with the plots in the Southeast Community Garden are as diverse as the crops. With 26 plots, the garden tucked into one of Roanoke's older, working-class neighborhoods has quickly become the flagship of the area's fledgling community garden movement.
Organizers say it's done more than provide food.
The simple act of tilling a vacant lot and inviting neighbors to farm a piece of it has become the seed of fellowship and broader neighborhood involvement.
"It has bound the neighborhood," said Mark Powell, director of the Roanoke Community Garden Association, the nonprofit that operates the garden.
"People that didn't know one another are now meeting one another," said Laura Padgett, president of the Southeast Action Forum. It's been such a success, the garden association recently won a grant of up to $36,000 to build an even bigger garden in the Hurt Park neighborhood.
---