A quiet revolt against heirloom tomatoes
Foodies and gardeners swoon over the old-fashioned varieties, but sometimes they can be mealy and bland.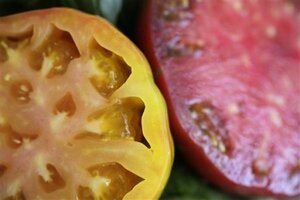 Eric Risberg/AP
The best tomato I ate last summer was not an heirloom tomato. If those don't seem like fighting words, then clearly you do not take tomatoes seriously.
In the food world, and in that especially obsessive corner populated by tomato aficionados, heirlooms are the embodiment of all that is good, which is to say they are not perfectly round, perfectly red, and utterly tasteless supermarket tomatoes.
We food snobs prize heirlooms for their personalities. These old-fashioned varieties are lumpy, cracked,and creviced, with glorious names such as Casady's Folly or Mullens' Mortgage Lifter (not to be confused with Radiator Charlie's Mortgage Lifter or Quisinberry's Mortgage Lifter).
And they come in nearly all the colors of the rainbow. They can be red, of course. But they are also yellow, streaked with tangerine like a summer sunset, pale green, bronze-and-purple, and bruised black as if they've just escaped from a backyard tomato smackdown.
I have eaten terrific heirloom varieties; indeed, I'm quite partial to the Black Prince, which hails from Siberia, a place one doesn't normally associate with tomatoes. But a week ago, I paid $4.99 a pound for a locally grown heirloom that was slightly mealy, tasted overwhelmingly bland, and paled in comparison with a perfectly round, perfectly red commercial hybrid, dubbed Early Girl, that I ate last year and am still dreaming about.
Call me persnickety, but someone needs to take a stand here: "Heirloom" is not synonymous with "good."
The key to a great tomato is how it is grown. Tomatoes, both commercial hybrids and heirlooms, like hot nights and plenty of water. The best ones are eaten still warm from the garden.
---