Urban gardeners get creative
In the city, vegetables and fruit grow in sidewalk beds, balconies, and window boxes.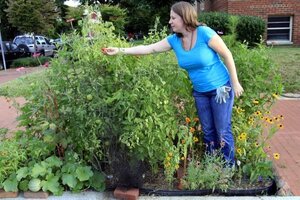 Susan Biddle/The Washington Post
Suzanna Dennis surveys the fruits of months of tender care: a vegetable garden of vigor, health, and bounty.
Five tomato vines form one tangled mass, belying the notion that congested vines are disease-prone. Hers are green and lush and full of trusses of ripening berries. Seven chili peppers are developing their fiery pods, four okra plants are blooming, and two tomatillos have already arrayed their papery lanterns.
A zucchini variety named Raven is sprawling nicely, and the miniature white cucumber plant is beginning to produce. Two vines of the heirloom muskmelon Anne Arundel hug the ground.
The bed also contains flowering annuals and perennials that Ms. Dennis started from seed.
All this can be found in the meager 9 by 5 feet of a sidewalk bed on Capitol Hill in Washington that, until Dennis transformed it this spring, held the rotting stump of a fallen street tree. "I saw this space lying fallow," she said. "I decided to turn it into a vegetable garden."
As waiting lists for community garden slots expand and the popularity of growing one's own food swells, land-challenged city dwellers have become increasingly inventive in their stabs at urban agriculture.
Christine Moschetti, who lives in a second-floor co-op on 16th Street N.W., has a series of window boxes sitting on the window ledges on two sides of her apartment. They grab that one commodity as precious as soil for the urban gardener: sunlight.
In an east-facing window box, she has an herb garden kept tame by constant harvesting. The herbs supply fresh flavors to her cooking all summer long.
---