A glossary of Asian vegetables and how to prepare them
Don't overlook these tasty vegetables for American menus.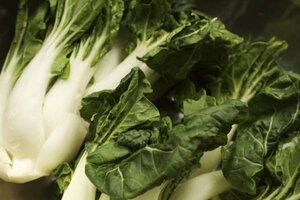 NEWSCOM
Asian vegetables are pleasing to the palate and nutritious, yet often overlooked as ingredients in American menus. (Click here to read all about how to grow them in your garden.) Here's a glossary of some of the most popular Chinese edibles and herbs, and how they might be prepared:
- Bok choy (also known as pak choy, celery mustard, Chinese chard, and spoon cabbage). The mild, slightly sweet flavor of its leafy white stalks complements strong flavors and is popular in stir-fry and soups. Younger or "baby" versions often are cooked to bring out their tenderness in a side dish.
- Mustard greens (gai choy, takana, Chinese or Indian mustard). Nutritious and fast-growing with a pleasantly spicy taste when eaten raw. Young leaves are good in salads; older leaves have a stronger taste, which becomes sweeter when steamed or stir-fried.
- Snow peas (shid dou, ho lan dou, sugar peas). Tender, sweet, and taste best when eaten young in their flat pods or before the peas mature. The flavor breaks down quickly after the peas are picked. Use fresh in salads; saute briefly and serve as a side dish.
- Chinese cabbage (wong bok, hakusai, Napa cabbage). You've eaten Napa cabbage if you've sampled kimchi, the pickled (and fiery) national dish of Korea. A vase-shaped cabbage with dark, curly leaves and white stem. Has a mild bite when eaten raw; cooking sweetens it.
- Flowering kale (wu tou gan lan, hwa choy, flowering cabbage). Makes a colorful salad and an even better garnish.
- Chinese radish (daikon, winter radish). Large leaves and huge roots. Generally cooked, although also popular pickled or raw. All parts are edible.
---