High school students start a farmers' market
Ohio teens who had never done any farming learned to grow organic vegetables and started their own farmers' market.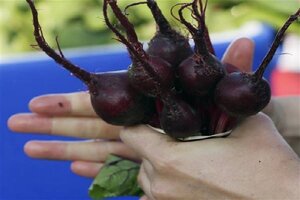 AP Photo/Columbus Dispatch, Neal C. Lauron
On a small plot of land owned by The Ohio State University, 13 high school students have dedicated their summer vacation to farming. The youths from nearby Metro Early College High School are growing organic vegetables for a student-run market they spent months organizing.
Never mind that most of the participants began with little — if any — knowledge of the agricultural world.
"They've never been to a farmers' market before; they've never worked on a farm before — and yet they've put together this business just through straight research and interviews and talking to people," said Neal Bluel, the marketing manager for the farm and a botany teacher at Metro.
Their efforts came to fruition on July 25, when the market opened for the first time.
"They've done a good job so far," Mr. Bluel said. "It's gone beyond our expectations already."
The project represents a collaboration between the so-called STEM school adjacent to Ohio State and the university.
Ohio State students enrolled in a horticulture class mapped out the crop placement on the farm; Metro students planned the market and found other vendors. Both groups tend to the vegetables in the field.
Support for the initiative — including marketing and grant writing — was supplied by the Past Foundation, a nonprofit organization that works with the 11 STEM schools ("science, technology, engineering and math") throughout Ohio to develop hands-on programs.
The four Metro students serving as managers and eight Ohio State students earn credit hours for their work.
---