Arizona volunteers catalog thousands of plants
The Cochise County Herbarium helps residents identify ordinary and unusual plants found in backyards, alleyways, mountains, and deserts.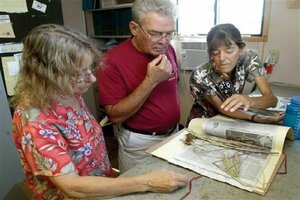 Ever wonder about that unknown plant in your yard — is it a good weed or a bad weed? Thanks to the efforts of a group of volunteers, that plant can be identified, dried, and even archived. The Cochise County Herbarium, a facility that houses mounted plant specimens, is a little-heralded resource for residents of the county to identify the thousands of plants found in backyards, alleyways, mountains and deserts.
Cecile Lumer, the curator of the herbarium, pulled out some yellowed files of plant identifications performed 50 years ago from 1958 to 1962 in the Chiricahua Mountains. Though the plants have lost color from the drying process, they still hold all the attributes necessary to identify them. What has piqued her interest, though, is the mapped recordation of plots and a list of the plants found in them.
"We could go back to these same plots today with GPS and see what, if any, change has occurred," she said. "There could be something different there now."
It is just one of the projects she has on the back burner.
Volunteer Virginia Bealer was working on mounting a plant that had been dried and then frozen (to kill any bugs). Delicately, she placed the long stemmed wildflower onto mounting paper. The paper notes the genus, species, year of collection, location, and who provided it.
Ms. Bealer, from Sierra Vista, is a retired schoolteacher who said she has always liked botany as she glances as an enormous source of information, the "Arizona Flora" written by Thomas Kearney and Robert Peebles, that provides listings for 3,438 plants in the state. She has been volunteering with the program for the past three years.
---