Rooftop gardens grow among the skyscrapers
Urban farmers, with limited growing space and an interest in fresh, local food, plant crops on city rooftops.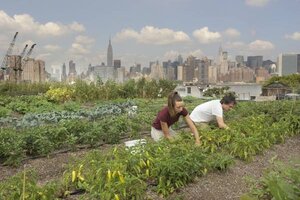 Helayne Seidman for The Washington Post
Like many a farmer, Ben Flanner rises with the sun. Like most crops, his need water and weeding — bright tomatoes and fragrant basil, delicate nasturtiums, melons and eggplants, mustard greens, puntarelle, peas, beets, beans, kale — about 30 fruits and vegetables in all, and then there are the herbs. But his farm is not like most farms.
His farm is three stories off the ground.
Beyond it is a sweeping view of the Manhattan skyline. Below it is a TV and film soundstage.
Flanner's 6,000-square-foot farm is on a rooftop in the industrial Greenpoint section of Brooklyn. He hopes it can become a model for others who want to grow food but lack space.
The problem in cities such as New York is always land. It's expensive and valuable, and it never makes more sense to plant than build apartments. But from a bird's-eye view, much of the city is rooftops. Most roofs are flat. They get direct sunlight, a rare commodity in a densely built place.
In recent years, enthusiasm has grown for green roofs, hailed for harnessing rainwater that can overwhelm urban sewage systems, and keeping buildings warmer in winter and cooler in summer, lowering electricity use.
But amid increasing interest in fresh, local food, this season seems to herald the era of the rooftop farm. It's as though somewhere someone decreed, "Roofs shall not lie fallow." And a colony of entrepreneurs, residents, schoolteachers and restaurateurs set to work.
---